3D Innovation Keeps Floorplanner Out in Front
Floorplanner has been helping people create accurate floor plans to sell, design and decorate their homes and offices since 2007. Headquartered in Rotterdam, they have over 10 million registered users in 161 different countries and offer their online service in 14 languages. Over 20 million floor plans have been created via their website and the number keeps growing. Here we explain how Floorplanner has used real-time 3D rendering not only to enhance their on-line design service, but also to create a unique, innovative tool for in-store customer engagement.
Leading Visualisation Services for Real Estate and Interior Design
Great service and intuitive usability are prerequisites for that kind of success, but waves of innovation have been key to maintaining Floorplanner's leading position. Having founded their business on a vision of floor plans for everyone, they took their on-line design capabilities to a new level with the launch of Roomstyler in 2013, enabling users to equip their rooms with a library of accurate, high detail furnishings and objects from leading suppliers.
Making a Great Service Even Better
The challenge was then to offer users a quantum leap in image quality through the ability to render high definition (HD), photorealistic images at the push of a button. They needed fast, reliable server-side rendering in the cloud and for this they turned to migenius' RealityServer technology.
The RealityServer development platform provided Floorplanner's team with the communications and render management capabilities they needed to equip Roomstyler with the rapid, single-button rendering capability they were looking for. And with these core services running successfully on their website, Jeroen Bekkers, Gert-Jan van der Wel and their two other co-founders realised that the platform they had created could be customised to create further innovative offerings in the design space.
Importantly, it was the combination of unique rendering technology and, critically, the developer support that Floorplanner's team received from migenius during these earlier phases of development that built the confidence they needed to diversify into a new area. As Jeroen says, "migenius is a great company to work with. Their technology and support have been critical for the development of our products."
Inspired, Dramatic & Highly Effective
In 2014, John Hitchcox's highly successful residential and hotel design company, YOO was planning the launch of its new furniture range and looking for ways to enable potential customers to visualise how YOO's designer furnishings would look in their homes before buying. Working with YOO, Floorplanner realised that instead of rendering HD stills of customers' room layouts on-line for display on a small screen, not only would RealityServer allow them to render these images at near full scale, right in front of the customers' eyes on a 5 metre video wall, but they could do this interactively while YOO's design consultants worked with the customers in YOO's retail spaces.
The YOO Styler was born and the first installation launched at Harrods in London in June 2014. The YOO Styler features a horizontal glass touch screen table on which YOO furniture can be selected from libraries and placed on a floor plan of the customer's home. Intuitive gestures on the touch screen then enable the furniture to be rotated and moved, and the viewing position navigated around the space while the near life-sized image is constantly updated on the video wall right in front of the customer.
Since its launch, the YOO Styler has proved very popular with YOO's customers and design consultants alike. Not just seeing what you are thinking of buying, but being able to check if it's going to fit and seeing it in context, from different angles and all in near life-size detail de-risks the buying decision and makes it easier for customers to purchase with confidence.
The success of the Harrods installation has led to the roll-out of YOO Styler to St Petersburg with more in the pipeline. YOO sees this as, "a revolutionary interior design tool [that] allows you to see exactly how the furniture would look and feel in your home. You have to see it to believe it." (You can read more about it at the YOO website.)
3D Rendering – Transforming the Customer Experience Both On-line & Off-line
Floorplanner's success is based on their recognition that 3D imagery is causing a revolution in the way that goods and services can be sold at all levels in the interior design market. They have put tools for floor plan modelling and room styling into everyone's hands through Floorplanner and Roomstyler, and YOO Styler demonstrates that these technologies can equally be applied to the selection of high-end goods.
What YOO Styler has achieved for designer furniture can certainly be applied in other markets. The cost of stocking high value items like furniture, cars, boats, etc. in prestigious locations, both in terms of the space required and the cost of the display items themselves means that innovative applications of this technology are increasing.
If you are looking for new ways to engage your customers by providing them with a vivid, hands-on and personalised buying experience that is also digitally-based and employs cutting edge technology, then we'd love to hear from you.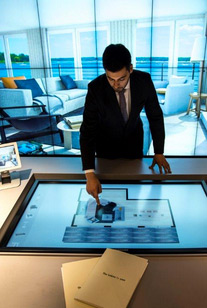 Ian Frew has worked in the computer industry for over 25 years, coding early CAD/CAM systems for Computervision, implementing business systems for Fortune 500 companies and commercialising early cloud offerings, before joining migenius to lead activities in EMEA.