Automating the Rendering of Product Images for KAN Design
Creating Strong Brand Identities & Inspiring Brand Experiences
KAN Design & Brand Management (www.kandesign.com) is a leading crossmedia branding and design agency. Based in the heart of Europe, KAN has been at the forefront of the branding business for almost 30 years and recently opened offices in New York to serve its increasingly global clientele.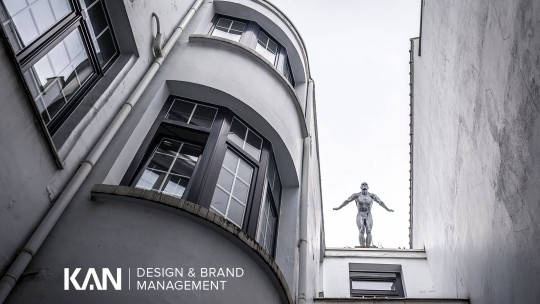 KAN not only creates strong brand identities and inspiring brand experiences for the organisations it works with, it has also developed 'Kadanza', a powerful set of tools for sustainable brand management. Central to KAN's success has been their ability to understand the challenges brand owners face today.
Imagery has always been an important element in brand communication and today efficient management of digital assets is critical to delivering that imagery, wherever and whenever it is needed. Here we explain how KAN Design has used the migenius RealityServer platform to automate key links in the process of generating 3D product images for one of its most important global clients. This has not only simplified and accelerated the process, but also delivered a spectacular reduction in the cost of producing new brand assets.
Kadanza – the result of three decades of brand innovation
In former times, brand guidelines were developed and printed, and the resulting brand book formed the reference for a company's marketing team. In the 90s clients started to explore the Internet and KAN offered them the first generation of web manuals. In 2001 KAN's clients could start editing templates online. Six years later KAN developed this idea into In-Doc Editing, a more sophisticated system, enabling KAN to design templates which clients could then edit according to their specific requirements.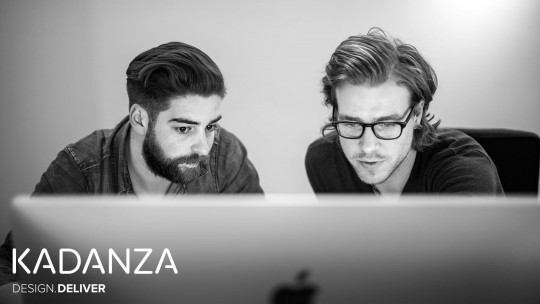 The concept of an online brand management tool came together in 2011 when KAN announced Kadanza, a cloud-based brand management platform that not only serves as an online editor and web-to-print engine, but is also designed to inspire users, promote brand engagement and facilitate asset management. Today, that platform continues to evolve, ensuring that strategy and visual identity combine in one accessible, intuitive environment.
KAN's latest innovation is in automating the generation of the product images its clients need for their catalogues and eCommerce websites. Gert Boers, Senior Crossmedia Designer & Developer at KAN, realised that by combining the 3D models his clients already have with"virtual" studio lighting, and then automating the process using the power of cloud-computing, he could extend Kadanza to deliver stunning, photorealistic imagery, on demand, and at a fraction of the cost of previous manual methods.
Faster, cheaper & better with RealityServer
The migenius engineering team worked closely with Gert to develop an initial command line interface that enables KAN simply to load 3D models for new products supplied by its clients into a directory on a server, whereupon RealityServer is invoked sequentially to process each model and render photorealistic brand assets based on a specified set of parameters.
The benefits of this automation are multiplied for products, for example liquids, that are sold in containers of many different shapes and sizes, each of which can be furnished with a wide range of labels. The potential combinations rapidly become enormous and RealityServer now enables Kadanza to produce a photorealistic image of any container/label combination automatically and at a significantly reduced incremental cost.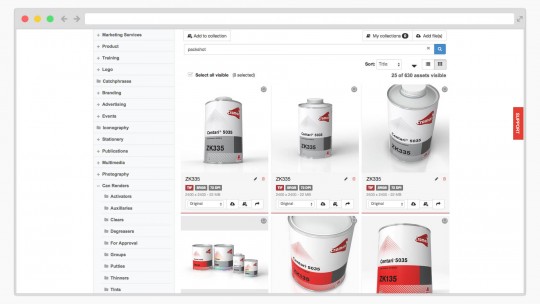 Given the frequency and uncertainty regarding timing of asset generation requests, and the urgency of response when they are received, RealityServer's ability to remove manual steps from this process is invaluable. But RealityServer's unique benefit is its ability to harness the power of the cloud to render photorealistic images remotely and at high speed, so that KAN is able to deliver the digital assets their clients require faster, cheaper and better than ever before. Using RealityServer, the cost of the former, costly manual process of "pack shot" production has been reduced by approximately 98%, enabling KAN to pass on significant savings to their customers.
Speaking after delivery of these enhancements to the Kadanza process, Gert Boers observed, "RealityServer's rendering capabilities integrated with Kadanza have enabled us to accelerate the production of brand assets, while cutting costs for our clients. This has been so successful, we are already planning how we can use RealityServer to take Kadanza to the next level and deliver further value for our clients".
Maximising brand value, through life
KAN knows that creating a great brand is only half the story; just as important is managing and building it. You can see why when you consider that the top 50 brands in 2015 all have brand values (the amount a company would be willing to pay to license its brand as if it did not own it) in excess of $20 billion (Source: BrandZ Top 100 Most Valuable Global Brands 2015).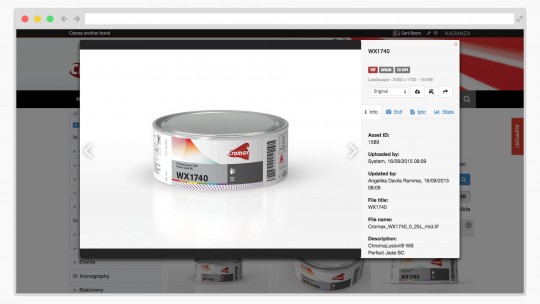 With the increasing economic importance of mobile computing, crossmedia is king. Companies simply will not be able to cope unless 'a create once, deploy across many platforms' approach is built into the management process for digitised brand assets.
As KAN's Partner for Branding & Corporate Identity Design, Fré Wollants, noted, "At KAN, we don't just develop brands; we deliver a brand's never-ending story. Visualisation is part of this and the work Gert has done with migenius to automate production of product images is an important link in the chain that enables KAN to offer highly efficient, sustainable, end-to-end brand management".
Visit www.kandesign.com and www.kadanza.com to learn more about KAN Design and Kadanza, their cloud-based platform for sustainable brand and asset management.
And if you are producing large volumes of imagery from 3D models and looking to automate your processes while generating high quality, physically accurate output, then we'd love to hear from you at migenius.
Ian Frew has worked in the computer industry for over 25 years, coding early CAD/CAM systems for Computervision, implementing business systems for Fortune 500 companies and commercialising early cloud offerings, before joining migenius to lead activities in EMEA.