Disrupting the Furniture Market with mycs
Within a single quarter of launching its online presence (www.mycs.com) mid-2015, mycs (pronounced "mix") was already taking orders in excess of $100k per month. Ikea famously disrupted the furniture market by inviting customers into the supply chain and selling them furniture they could assemble themselves; mycs has now ignited the latest wave of disruption in this sector by offering customised, quality furniture online and at speeds previously unheard of.
Interestingly, Ikea's new approach in the 1970s did not revolutionise the entire market. While it stimulated demand for well designed, low cost products, traditional higher end furniture manufacturers have, to this day, continued to sell their catalogue-based products through conventional bricks and mortar stores. mycs' innovation has been to revisit the building blocks of quality furniture design and re-engineer them not just for modular manufacture for their own convenience on the supply side, but also for customer configurability on the demand side.
This distinction is critical, since a product designed for ease of manufacture does not always lend itself to elegant customisation by an end user. mycs realised this and looked carefully at the decoupling point between customer configuration and modular product assembly to come up with a range of quality furniture items specifically designed to be configured and ordered online. Today's e‑commerce shoppers are looking for a great online buying experience, coupled with close to instant order fulfilment and the mycs product configurator is pivotal to that process.
Creating an engine to drive new levels of delivery performance
There are other online furniture offerings out there, however, if you check the delivery times you will rapidly conclude that many online stores are just a front for classic 'build to order' fulfilment, quoting 6-12 weeks' delivery. Many don't offer online configuration and, when they do, the options are generally limited. Where true configuration is possible, the underlying product design is often so complex (i.e. not designed for end-user customisation) that the process is painful and results in abandoned shopping carts.
In contrast, mycs products are not only designed for user configurability, the supply chain that delivers them is optimised to ensure that once placed, the order acts as a "kanban" for lean manufacture, pulling constituent modules together for final assembly such that products can be dispatched within 24 hours of order placement – a service level unheard of in the 'make to order' quality furniture market.
At the centre of this system, the mycs product configurator orchestrates customer orders and material movements. As a key differentiator central to their offering, mycs developed this configurator in-house to ensure an easy to understand, elegant user interface, tightly integrated with their backend operational systems.
And critical to delivering the user experience necessary for online purchase of high quality, high value products, the ability dynamically and in real-time to provide users with photorealistic images of the products they have created was right at top of mycs' list of requirements. For this physically accurate visualisation capability, mycs turned to RealityServer from migenius.
RealityServer – helping mycs "make it yours"
mycs evaluated several visualisation technologies before choosing RealityServer. Client-side rendering with WebGL has come a long way and is now "good enough" for some applications, however, with basket prices in the furniture sector ranging from several hundred to a few thousand dollars, "good enough" will not do. Customers need to be convinced by what they see and if they are not standing in a shop looking at the object, then it needs to be displayed on their screen in photorealistic detail, with physically accurate lighting and materials that look just like they will when the item is delivered.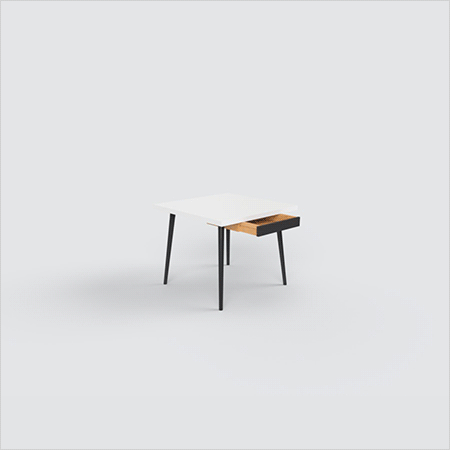 RealityServer's ability to use server-side rendering to deliver that visual result in a timely manner was what convinced mycs to select it as a key element in their configurator. The powerful API provided by RealityServer enabled the mycs development team rapidly to integrate the Iray rendering engine into their application, leaving RealityServer to take care of the management and communications necessary to run the rendering process and deliver impressive photorealistic images to their users' screens.
As Kachun To, Managing Director and co-founder, explains, "We know that more than 60% of customers research furniture purchases online and, until now, less than 10% actually order online. We are changing that, but have to assume we will only get one chance to convince a customer to buy from us. If the visualisation process is too complex, or too slow, or anything less than photoreal, then they simply will not place that order, no matter how well the item is designed or how quickly we can deliver it. RealityServer was a great choice for us and the migenius engineering team was always there for us when we needed support during the integration process."
Changing the dynamic in furniture retailing
mycs is well on its way to achieving its first year goals through its configurator-led approach to selling quality furniture online and disrupting the market by collapsing the delivery lead time to a fraction of what has become the norm in their sector.
Having developed the concept and launched the site, next steps include extending their range of furniture items with new modular designs and extending the regions they serve from the German-speaking launch countries to France, Benelux and UK in the coming months. Plans are also in place to link CNC machines in production with user input to deliver "made to measure" products and, since the business model can be generalised beyond furniture, perhaps mycs will one day decide to apply their configurator-led supply chain concept to disrupt other markets, beyond furniture.
You can see how mycs combines minimalist design with maximum flexibility at www.mycs.com.
And if you want to find out more about how you can enable an app you are developing with physically accurate imagery from RealityServer, then we'd love to hear from you at migenius.
Ian Frew has worked in the computer industry for over 25 years, coding early CAD/CAM systems for Computervision, implementing business systems for Fortune 500 companies and commercialising early cloud offerings, before joining migenius to lead activities in EMEA.