Trove – Democratizing Jewelry Design
Trove is democratizing the design of jewelry and RealityServer is providing imagery to make it happen. Trove is an online platform for discovering, sharing and customizing 3D printed jewelry designs. Their website (www.troveup.com) enables clients to design, visualize and create beautiful pieces of jewelry from their smartphone or tablet without the need for any special tools or training and, importantly, encourages them both to share and to be inspired by the designs of others in the Trove community. All this is enabled by the innovative application of new technologies throughout the creation process.
Based in New York City, Trove was founded late 2014 to bring the possibilities of 3D printing to a wider audience. Trove's founders knew that people were becoming increasingly aware of new digital fabrication technologies, but realized widespread adoption of 3D printing was being held back by the lack of relevance of the technology to people's everyday lives. The challenge was to create a platform that makes jewelry design relevant, accessible and easy to use, in order to inspire and enable everyone to design the jewelry they want.
Virtualizing the jeweler's bench
To make the process of online design relevant, visitors to Trove's website immediately find themselves part of a design community. Popular template designs are provided and users can see immediately how others have used Trove's intuitive interface to restyle and personalize their chosen rings and bracelets. Trove's "design feed" provides a constant stream of inspiration and ideas as individuals complete their designs and these are added to the collection.
Once inspired, clients can use Trove's unique, digital jeweler's bench first to select elements of their chosen piece, then adjust dimensions, radii and even the material it will be made from while the price is constantly updated to reflect these changes. Trove puts this workbench right in their customers' pockets by making it available on mobile browsers and the system has been carefully designed for simplicity and ease of use.
Of course, key to any design process is the visual feedback essential to stimulate creativity. And since the higher an item's value, the more convinced a customer needs to be before they will buy, visual feedback is also critical to sales conversions. Moving the purchase process from the physical world of shops to the virtual world of eCommerce brings many advantages, but on-line retailers need to pay particular attention to the quality of this interaction if they are to convert browsing into sales. This is particularly true for jewelry, where appearance and design are everything.
Making precious metals look precious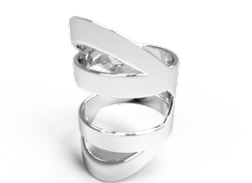 Trove addresses this "need to be sure" in several ways. Personalizing pieces that have been selected from the Trove community forges an intimate connection between customer and design; Trove's unique "pre-view model" service ensures rings will fit perfectly when they arrive; and perhaps most important of all, superb visual feedback is provided instantly by stunning, photorealistic rendering generated with Realityserver. As Trove's CEO, Brian Park, says, "Precious metals must look realistic and RealityServer's ability accurately to capture the interplay of light on surface textures helps our customers see how their design is going to look before they place the order."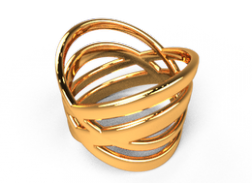 Trove has reinvented customer intimacy in the context of their online platform for jewelry design. Paradoxically, moving jewelry purchase out of retail stores has freed them to put each one of their customers at the focal point of realizing their own unique designs. Trove's innovative use of technology enables this to happen on customers' personal devices – both tools to support the creative process and RealityServer rendering to show them exactly how their design will look.
The emergence of modern classics
Trove is already planning extensions to their range of rings and bracelets, with necklaces due to be added soon. Currently available for delivery to postal addresses in USA, Trove's success will inevitably see their coverage extend to other regions. At that point, an interesting fusion of cultural influences will take place as Trove's ever-expanding feed of design inspiration begins to reflect a new kaleidoscope of influences from different places.
So if you love jewelry, then keep an eye on www.troveup.com to see how Trove is democratizing jewelry design.
And if you want to find how RealityServer's physically accurate rendering can help reinvent the business model for your sector, then we'd love to hear from you at migenius.
Ian Frew has worked in the computer industry for over 25 years, coding early CAD/CAM systems for Computervision, implementing business systems for Fortune 500 companies and commercialising early cloud offerings, before joining migenius to lead activities in EMEA.